About us
Freedom Cycles, the Cycling store where customer service still comes first!

We are an independent Cycle dealer in Lichfield, Staffordshire. Situated near to Trent Valley Station in this historic cathedral city, we opened our shop in April 2009. As cyclists ourselves, we believe we have the passion and desire to make sure everyone is happy on two wheels!

Our personal service and attention to detail helps when finding the right bike for you. Whether you are young or old, expert or novice, adventurous or sedate, we will help you to chose the right bike for your needs, and ensure that it is the right size too.

There are many bikes on display, which can be test ridden, with more in stock and readily available, ranging from toddlers trikes to e-bikes, full range of childrens bikes, bmx, town and country, all terrain and mountain bikes, and a full range of road bikes for all riders - right through from beginner to serious competitor.

Parts and accessories are readily available throughout the store, with many more available to order with prompt delivery if we don't have an item in stock when you call.

Our aim is to show everyone how much pleasure it is to 'get on your bike', and as part of this we are supporters of the 'Cycle Rides for All' - a series of rides throughout the year in partnership with Lichfield City Council, for riders of all ages.

Freedom Riders was started to encourage and develop the road cycling customers and friends and this is currently being taken to a new level and rides and events will be available for all to see on a section of this website.




Latest Events
WINTER OPENING HOURS
Now the clocks have gone back, it's a slight change in hours for us, but if you need us - we'll always accomodate where we can! call us to arrange early drop off or late pick up - here to help!
'normal' winter hours 9 - 5 monday to saturday, 11 -... more
« - »
FREE BIKE SECURITY MARKING
Wednesday 6th Sept., at Lichfield City railway station between 6pm and 8pm, has been organised by Staffordshire Police, the Safer Travel team from West Midlands Police and British Transport Police.
The marking takes a couple of minutes and adds a... more
« - »
PHONE LINE ISSUES
we are sorry, but we are experiencing issues with our phone line - it sounds like it's ringing, but unfortunately it's not ringing out in the shop!!! BT are working on this and hope to have it resolved shortly!
please use our email for now if pos... more
« - »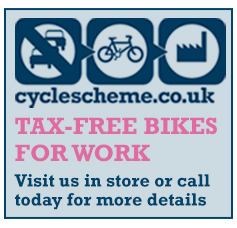 All major credit cards accepted